Who would you rather hire today: A Creative Strategist or Strategic Creative Director?
Juxtaposition as intriguing as quizzing a die-hard detective genre fan on whether he thinks if icons like the Pink Panther & Sherlock Holmes were more right brained than, their modern day avtaars in CSI & NCIS gangs.
Call it as our industry's 'Twilight moment' where lines are blurring, not just between Real & Virtual worlds, or the role of Specialists and Generalists, but also between the Art & the Science of our business. Never before this, have we felt an eminent need for the left and the right brains in our business to fire in tandem.
Can't just be purely Creative, or simply Effective anymore.
Judging by what and who is winning at premier award shows be it Creative, Effectiveness or Strategic pure play, juries across shows seem to be unanimously applauding cases that demonstrate perfect harmony of yin and yang in our business. And it's not just the award shows but even client boardrooms are giving thumbs-up to work that demonstrate sparkling creative work backed by razor edge strategic point of view.
The rise of Creative Effectiveness
What started as a mere introduction of 'Creative Effectiveness' category at the Cannes Lions Festival in 2011, soon became a worldwide industry buzz further ignited by a joint study undertaken by UK based Institute of Professional Agencies [body representing Advertising Media and Marketing Agencies] to ascertain a direct correlation between what wins at IPA, Effies and the Cannes. Confirming the fact that ads don't need to persuade to be effective but they usually engage emotionally. A powerful insight of our times that advocates the philosophy
No wonder then Creative Effectiveness winners at Cannes & Spikes this year are already shinning at 'strategy pure play' competitions be it World Advertising Research Council's 'Asia Strategy Prize' or the much coveted 4A's of North America 'Jay Chiat Strategy Prize' shortlists. Campaigns that made both the strategic and creative interventions look seamless making it challenging for the jury to second guess where did the idea originate, without relying too much on executional prowess or amplification shined equally at both the shows.
The New Ideas Tag team @ work
So it's no more the Art & Copy guys team at the agency, but increasingly more and more right brained planners have started jamming with left brained creative directors on briefs that don't shy away from confronting real world client business issues. So whilst increasingly Creative Directors are actively asking bolder strategic questions, planners on the other hand are engaging them by pushing the boundaries of lateral thinking. In process breaking the assembly line like rut of 'from brief to review' process our industry was stuck in, with a creative problem solution technique to business issues.
Going by the number of planners making trips to various creative award shows like Cannes & Spikes, and the Creative directors making selective appearances at various effectiveness, well atleast the Creative Effectiveness shows is a testament of this new blossoming 'love collaboration' on creating Creatively effective ideas.
Here are a couple of Inspirational Creative Effectiveness Cases. Whether it's the Planner's Logic or a creative's Magic, you decide.
Case#1: 'Break-up' NAB Bank Campaign
Agency: Clemenger BBDO, Melbourne
The challenge:
How do we get people to believe a bank is different when they have long thought the big banks collude with each other at the expense of their customers?
The idea:
Getting people to openly witness NAB break up from the other major banks. Australians have always believed their four biggest banks, Commonwealth, ANZ, Westpac and NAB work together fixing fees and eliminating competition. The reality for one of the four however is the opposite. NAB's retail bank, the smallest of the 'Big 4', had invested two years making dramatic changes to be considered fairer and more competitive by their customers, but the changes had limited impact because of the perceived collusion between the major banks. So we had to get people, both NAB and non-customers, to identify with the brand by creating a difference that resonated with a cynical Australian public to show what the bank had become.
Case#2: 'River of Lights' campaign run by Ministry of Defense Humanitarian Demobilization Program in Colombia.
Agency: Lowe SSP3, Colombia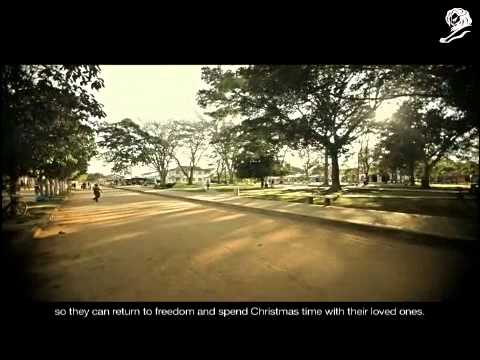 'you can't be effective without being creative and vice-a-versa'.
The Rivers of Light campaign in December 2011 involved sending messages, letters and gifts to fighters through their relatives and friends, inviting them to leave their weapons and come back home for Christmas. The messages were placed in illuminated airtight capsules and sent to the FARC groups camping by the rivers of Colombia.