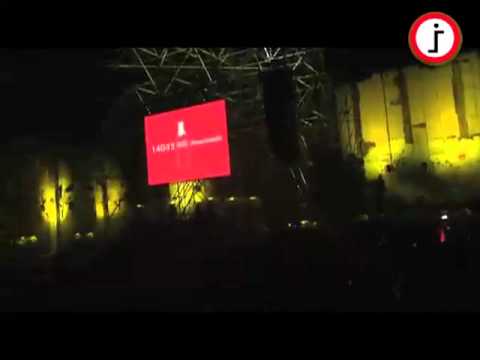 You have to dig this recent initiative from Coca-Cola in Columbia.
During this concert, the band was playing on a stage that was 50 meters above the crowd.
As Adverblog reports, in order to bring the band down lower, the audience had to "download" them by using their mobile devices to log onto Coke FM and download songs from the band. As they did, the performers would be lowered closer to the public.
This effort, from Ogilvy Columbia, seems to have been a lively way for activate this live event through mobile. And as you can plainly see, it worked.
A QR code or something to instantly log on and download songs could have made this even more immediate.
Either way, Coca-Cola has done it again.
Coca-Cola Mobile Marketing Webinar Thursday, August 16 at 11 AM PDT
For those interested in finding out more about how Coca-Cola leverages the power of mobile - especially during live events - Coke's Center for Mobile Excellence is hosting a Webinar August 16 with the Mobile Marketing Association and Mozes, a client of mine that specializes in brand activation using mobile at live events.
At 'Become Best-in-Class in Mobile Marketing, attendees will learn:
- How to approach cultivating an in-house mobile expert or team.
- How mobile is transforming the event experience.
- How to convert participation into long-term relationships.
- Best practices for building a successful mobile engagement strategy incorporating audience engagement.
Moderator: Michael Becker, Managing Director, North America
MMA Speakers:
- Tara Scarlett, Senior Manager, CRM and Mobile Marketing, The Coca-Cola Company
- Chris Bigda, Connections Planning & Investment, Media & Interactive, The Coca-Cola Company
- Dorrian Porter, CEO, Mozes Inc.
To find out more and to register to attend, click here.
And to find out more about the Coke 'Download The Concert Initiative' click here.